Inspired by an ancient recipe from the beginning of 20th century our master infuser managed a double touch of Chinchona, Absinte, orange peel and other 30 botanics to create a magnificent Vermouth with pronounced bitter notes.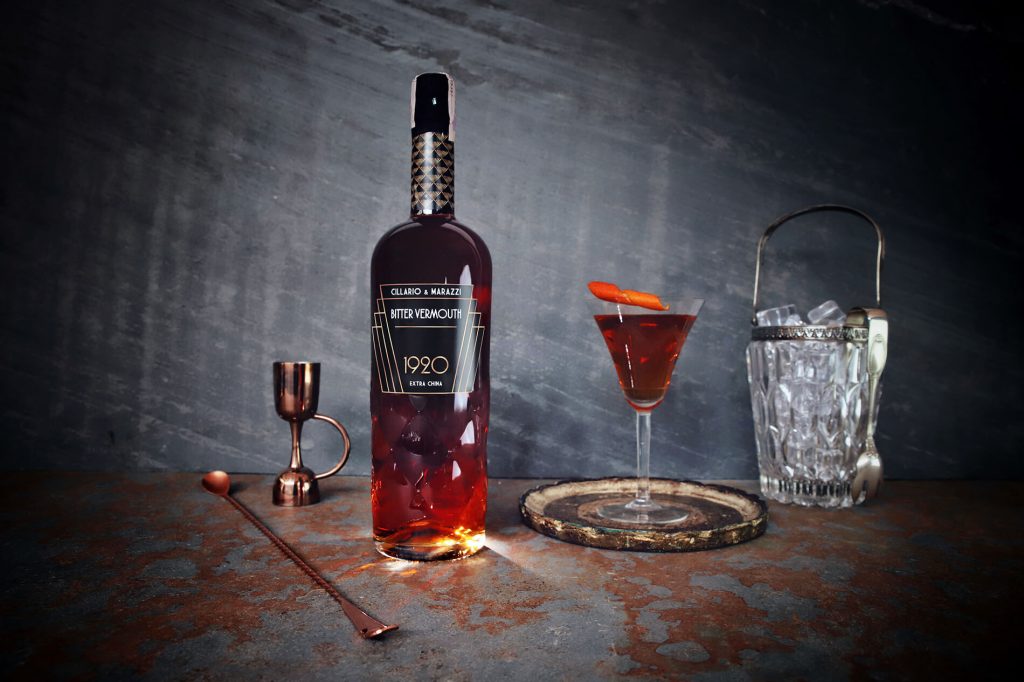 Cillario&Marazzi Bitter Vermouth 1920 use Moscato di Alessandria wine (Dry Zibibbo) from Sicily, where the microclimate is characterized by wide thermal excursions due to local altitude.
During the warmer and dry months, when rain is very rare, no artificial irrigation is used. Vines' roots need to reach deeper in the ground searching for water, going through different mineral stratifications that give the wine its unique flavor.
Cillario&Marazzi use 33 different botanicals and spices to aromatise wine. Oils are extracted in two different infusions: an alcoholic one, with organic – and kosher – Italian wheat alcohol, and a hydro-alcoholic one, with added Zibibbo wine (keeping the organic alcohol as a base).
The main botanicals used for Bitter Vermouth 1920 are: Absinthe, Cinchona, Orange peel, Blessed Thistle, Calamus, Cassia, Cardamom, Cloves, Coriander, Elderflower, Galanga, Mace, Melissa, Quasso wood, Hop, Rose petals, Rubarbar, Orris root, Gentian root, Angelica root, Rosehip, Dandelion and Vanilla.
After resting 1 or 2 of months, depending on ambient temperature, and therefore on seasons – C&M strain two infusions and mix them with the rest of the wine.
The mixture is then sweetened in a traditional and craft method, with handmade caramel from unrefined sugar.
Before being bottled, vermouth needs to rest for an additional three months in bottle before being sold. This time will allow all flavors to blend together.
No preservatives or any pasteurization technique are used. Open bottles of 1920 Vermouth should be kept in fridge to best preserve aromas and flavors.
Cillario&Marazzi Bitter Vermouth 1920 can be enjoyed neat, chilled, or in a Martini glass with ice and orange zest. It can be also mixed to create memorable Negroni's and unforgettable Vespers.
The alcohol content is 17% Vol.